Embraer ERJ145
The largest member of the family, the ERJ145 provides the versatility to build a regional network and right-size capacity. 20 years in operation, over 26 million flight hours, in service with 36 airlines in 26 countries, the ERJ145 is a proven runway legend.
Quote request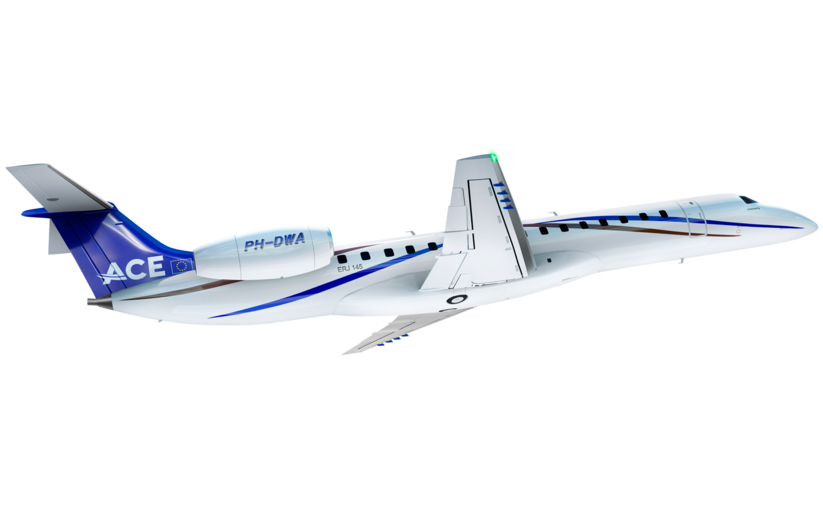 The extended-range ERJ-145ER is the original version of the aircraft which has a range of 2,963km. The long-range ERJ-145LR, introduced in 1998, has a range of 3,037km. The extra long-range ERJ-145XR, with improved fuel efficiency and a range of 3,704km, entered service with the launch customer, ExpressJet Airlines of the US, in November 2002. ExpressJet has ordered 104 aircraft with 100 options.
The ERJ-145 aircraft has a circular-cross-section fuselage, rear-mounted engines, low-mounted swept wings and a T-tailplane. The nose radome was supplied by Norton and the manufacture of the rear and centre section of the fuselage was subcontracted to Sonaca of Belgium.
The main cabin can accommodate 42 passengers in a three abreast seating configuration.
The passenger door at the front port side is equipped with airstairs. The cabin and baggage compartments are air conditioned and pressurised.
ACE's aircraft feature a "Corporate" cabin configuration with less seats than the original versions and without overhead bins, which means that passengers enjoy much more headroom and legroom but also improved seatback pitch.
All plastics were removed and replaced with noble and high quality materials such as ultra soft leather, wood or even marble in the lavatories.
Extra soundproofing was also installed all around the cabin, so that the noise level in the cabin will be much quieter than during a typical flight.
Travel up to 2870 km with our Embraer ERJ145